---
Details
Minimal Fee
RATING
SEO keyword research: 4.9
SEO backLink analysis: 4.7
SEO SERP monitoring: 5.0
SEM keyword research: 4.9
SEM competitor monitoring: 4.0

from $30

4.9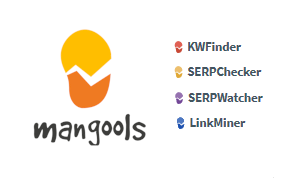 Mangools ( actually, KWFinder during that time ) was founded in 2014 as a one man band. The aim was to provide effective SEO tools for all businesses. In fact the business was so successful that it has evolved from a one man band to a four person company. As already mentioned above, Mangools is a SEO tool software which consists of 4 solutions and can be used for semantical core / keyword research ( KWFinder ). SERPs analysis ( SERPChecker ),rank tracking ( SERPWatcher ) and backlink analysis ( LinkMiner ). KWFinder and SERPChecker can be also used for SEM purposes.
Keyword research
You can almost start to enjoy keyword marketing with this tool! In moments it is possible to assess the popularity of your chosen keyword and locate the number of people that have searched on it. You'll also see the latest trends, which words which have potential but haven't been used yet; as well as seeing which sites are topping the SERPs.
Checking SERPs
This part of Mangools allows you to see what your competitors are doing! This is essential to ensure you are one step ahead of them; attracting the best customers. It simply shows you the SEO information in respect of any given webpage. That allows you to assess how successful their campaigns are and whether you should be using their keywords.
SERP monitoring
Google may be the most popular but there are many different search engines. The SERP watcher tool allows you to see how specific keywords are doing on different search engines and on different devices. This is instrumental when you need to tweak your campaign.
Backlink analysis
If you want to see who is backlinking to your competitors then this is the right tool for you! You can then attempt to poach the links or build a different campaign.
The idea behind Mangools SEO tool
It is important to appreciate that SEO rules need to be adopted in order to reach the top of the search engine rankings. Without this your business will only attract a small proportion of the customers you currently have.
Mangools is designed to make sure you get your SEO marketing right. It does this by:
Reducing Costs - You can select a monthly subscription for Mangools which fits with your available budget. This will help to ensure you don't blow more funds than you can really afford while trying to build a successful marketing campaign. In the majority of cases you'll find that Mangools more than pays for itself through the increase in customer traffic and sales.
Giving Access to All Campaigns - This software allows you to monitor all your tools and campaigns from one place without the need to change between sites. This will quickly become confusing and leaves you liable to miss important information. With Mangool this is not an issue; all the information you need is right in front of you and can be accessed simultaneously.
Exceptionally Easy To Use - Getting your SEO campaign right is important but it can also be very confusing. Fortunately this is not an issue with Mangools. The tools are so well designed that they practically do everything of you. Your time can be spent on building the business and ensuring quality products and service; not on trying to work out how to let people know you exist.
KWFinder Review
You may be surprised at how simple this tool makes it to find the right SEO keyword and implement your campaign. In general the whole process is very straightforward. Even a beginner can get started in moments providing they understand some basic terms:
SERP – Search Engine Results Page
Trend – How popular your keyword is over the last year.
CPC – Your cost for paid advertising; averaged across the different uses.
Visits – how many people have visited your site; this is shown by month but can be changed.
Search – see an exact figure for the keyword of your choice.
DIFF – this shows you whether your keyword is a difficult one or not. The more difficult it is the less it is likely to be searched on.
You'll also note that this tool allows you to look for any keyword you choose. You can choose from these 3:
Suggestions
Let the software choose, or suggest keywords for you. It uses real time information to select the ones that are most popular or likely to attract interest.
Auto Option feature
Tell the system what word you want to check then receive an array of suggestions which relate to your keyword. This can help you to decide the right keyword or how to direct your marketing campaign.
Ask Google
This is becoming an increasingly common part of everyday life. Your Mangools tool can take a keyword and turn it into a question that is likely to be asked by consumers. You can then use these question suggestions to create content that responds to the question raised. This will help to draw new traffic to your site and increase your customer base.
Filtering Your Results
This is a great feature that allows you to adjust the results you are shown. In can be exceptionally useful if you have a lot of results from a keyword search. You can find the most popular by removing all results below a certain threshold. Alternatively you can use the average cost to determine which keywords fit your budget best. Again, you can then base your content on these keywords and attract the right customers.
KWFinder Summary
This is a great tool especially if you want to see all your results in one place and feel you would benefit from keyword suggestions. The fact that it gives keywords local to your area and provides a wealth of accurate data to help you see the most relevant results is a bonus; along with the ability to write content based on the information given by the tool.
SERPChecker Review
This is an exceptionally good tool for monitoring your competition. Simply enter one keyword and you'll be able to see which of your competitors are using it, how well they rank in the search engines and all the relevant data concerning their ranking position. You can use this info to decide if the keywords are difficult, how they generally rank and how your competitors rank and even a range of other SEO metrics. This can then help you to shape and direct your marketing campaign to attract the customers that your competition currently has.
The great thing is that the SERPChecker is really easy to access. All you need is a Mangools account and then open the SERP Checker review. Simply type in the keyword in the search bar and select the option to analyze serp. Within minutes you'll have your results and can start planning your next move.
One of the most interesting parts is discovering who is backlinking to your competitors and what kind of link building strategies your competitors are using.
SERPChecker - Summary
This is a great option to see what is happening with search engine ranking locally. It will even show you whether people are searching from a mobile device or a desktop. You will also be able to evaluate how effective an organic campaign is versus a paid ad campaign.
SERPWatcher Review – Staying High
Identifying the keywords that your competition is using allows you to use the same keywords and effectively beat them at their own game. But that's not the only thing you need to be doing to ensure you stay high in the results pages. This is why you need SERPWatcher. This part of the Mangools collection will help you to look at your own keywords and your web pages. You need to see how well these pages are doing and the effectiveness of your keywords to decide whether to use similar keywords or to change tact.
It's easy to start using SERPWatcher:
In the right corner of your screen you'll need to select the 'add new tracking' option. You can then type in your keywords and your domain name or names. Now simply select 'start tracking' and the software will go to work! Within a few moments it will start to display all the data you need.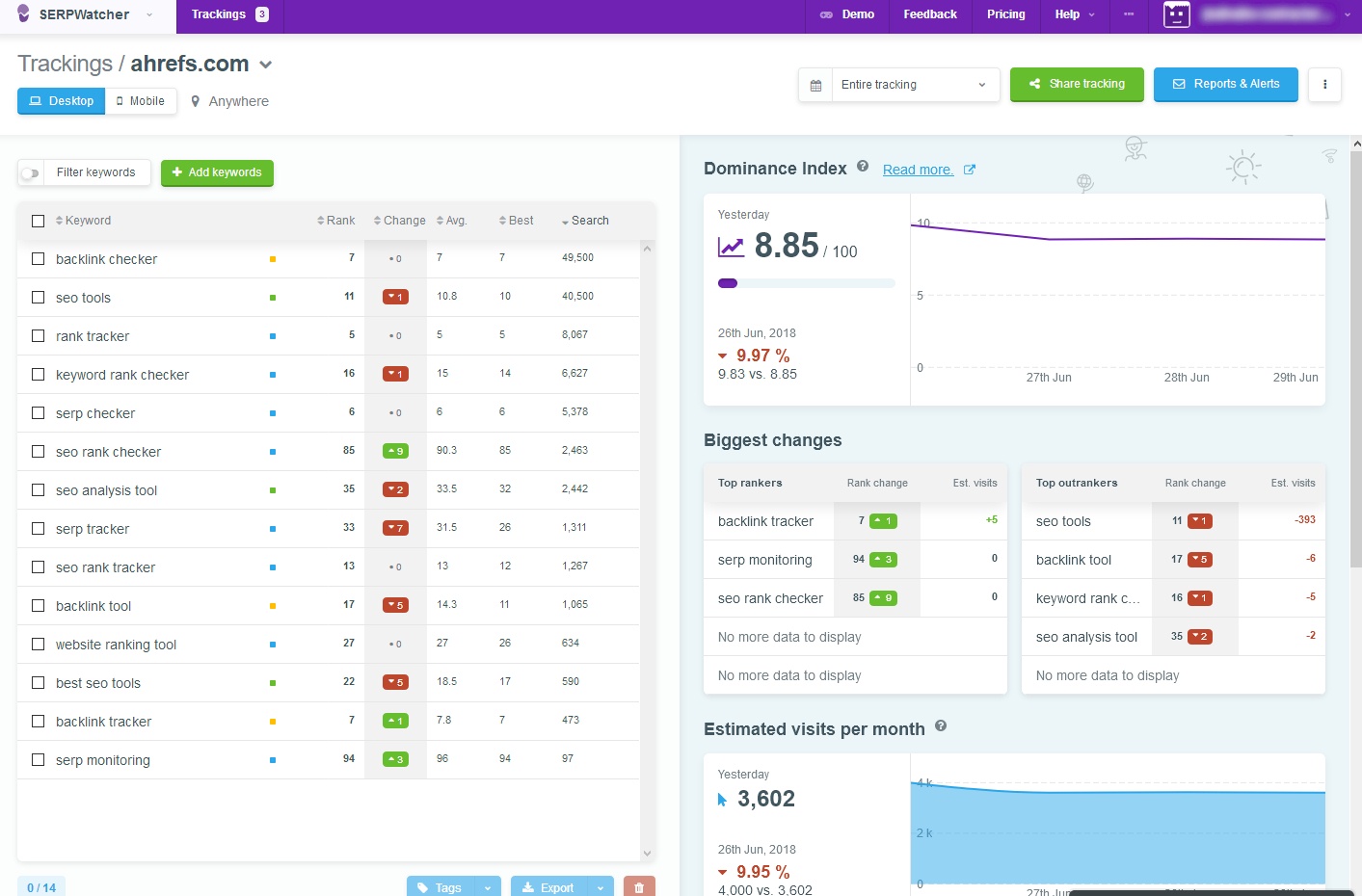 One of the most important things to look at is your dominance scale. The higher this is the more of the organic traffic you have; compared to competitors. There are several things that the software looks at to decide where your dominance rating is:
The volume of searches on a particular keyword
Your current ranking on results pages
Which keywords are being used
The closeness you are to the top value; based on if you were top for everything.
In effect if you are told that you have a 75% dominance then you are probably getting 65% of the traffic searching for a particular keyword; that's a good result!
It will also help you to understand which of your pages are ranking highly and which are not performing as well as you would like.
Is SERPWatcher For You?
This is a great tool for monitoring the source of an enquiry. Considering mobile technology is overtaking desktop it is likely that more enquiries will come through this route; but it's good to know for certain and plan accordingly. With just a few tags you'll be able to consolidate your keywords and monitor them all; one click at a time.
There are a large number of reports to help you build your marketing strategy. These are all downloadable. You'll also appreciate the way SERPWatcher allows you to track results based on the location of your consumers. Combine this with the info regarding your keyword ranking and you'll instantly see how to tweak your campaigns.
Finally it takes just a couple of clicks to access all the basic information you need regarding rankings and visits; allowing you to track your improvements.
LinkMiner Review – Looking Back Is A Good Thing!
Backlinks are designed to link between businesses and can potentially increase the amount of traffic going through your site as well as people's knowledge of your presence. While you are working hard on building your own backlinks you will find it useful to assess what linking your competition is currently doing.
LinkMiner will allow you too quickly and easily establish what your competitors have managed to achieve; potentially allowing you to poach their links. It's easy to get started. Simply select the search option and enter the domain you are interested in (your competitor's). Then select 'find backlinks' and wait a few moments.
There is an option to show only one link per referring domain. This means you'll have a list of sites linked to your chosen domain. If you don't select this option you'll see all the links; allowing you to assess how often a particular site links with your competitor.
You can also take a look at backlinks which have been deleted, the latest backlinks from within 30days or all the links for the last 90 days. The results will quickly show you how many IPs are referring to the site and the amount of domains doing the same. It will also give you a figure known as the citation which shows you how powerful the link is. The higher the number the better it is.
Perhaps most importantly you should look at the trustflow figure. Again this is a figure which is high if you link with a lot of reputable sites. You can also look at the Alexa ranking; the strength of the links, how many shares a page has on Facebook and the amount of external links on one given page.
A Good Reason To Use LinkMiner
This tool is about more than just being curious regarding the competition. It will allow you to see a preview of the websites that a site is linked to. This can help you to decide your own marketing direction. You can sort the links by a range of criteria to ensure they are relevant to your business and even save your favorite backlinks; allowing you to build your own campaign on them later.
Understanding The Pricing Options
There are several options to help you get started with Mangools: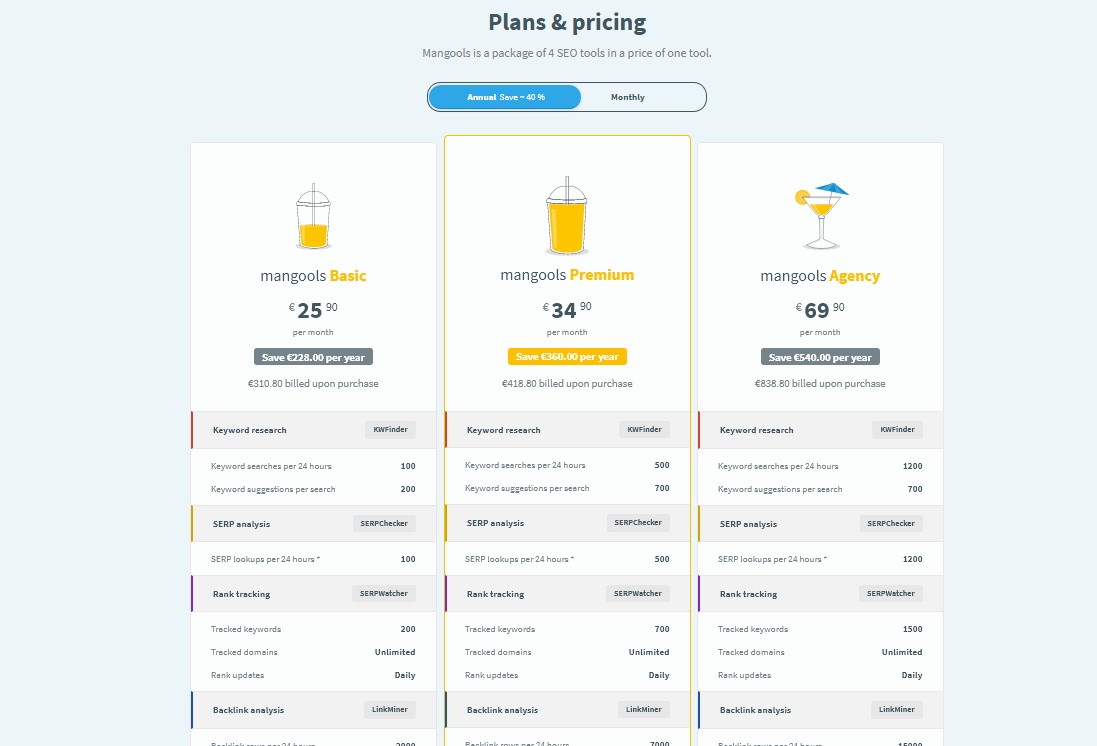 Go Free
You won't get access to all the tools described here but a free account can be created in minutes and will allow you to look up 3 different sites every 24 hours. You can even select as many as 25 keywords every time you search.
Of course, this is just a taster; the idea is to show you what Mangools has to offer and entice you to start using one of the paid accounts. This is the only really effective way to get serious about your SEO marketing campaigns and build the results you need.
The Basic Plan
This will cost you $29 per month. It's a great account for those starting out or even serious bloggers. You'll be able to see your daily rankings, track as many domains as you wish, follow up to 200 keywords and even access 100 SERP lookups, 100 KW lookups every 24 hours.
The Premium Option
At just $39 per month this is a good plan for those building their business, SEO experts and most bloggers.
You'll get the same access as with the basic account; just with a little more options. For example you can track 700 keywords with 500 KW lookups and the same number of SERP lookups every 24 hours. You can even enter 500 keywords per search page!
The Agency Option
As the name suggests this is aimed at anyone operating an agency. It costs $79 per month but will give you every feature you need.
This includes daily rankings, an unlimited number of domain tracking requests, 1500 tracked keywords with 1200 lookups for KW and SERP. You can also use up to 700 related keywords per page search! That's impressive!
It is worth noting that you need to request a refund within 24 hours of purchasing or it will not be accepted by Mangools.
This is an SEO tool that gives you a huge amount of information, covering everything you could wish to know about your own pages or your competitors.
Summing It Up
One of the best random keyword search functions you'll find anywhere. It has an attractive price with several purchase options and an easy to use interface with keyword lists. You'll also benefit from keyword suggestions and the Google SERP tool while monitoring your ranking and the backlinks of your sites and your competitors.
At the end of the day the Mangools tool is hard to beat; there are very few SEO tools that can offer the same range of results. The fact that you get access to four tools in one simply increases the power and usefulness of this software. If you're in business or serious about your blog you need this software!
| | | |
| --- | --- | --- |
| Aspect | Feature | Availability |
| SEO | Own page authority | Yes |
| SEO | Own domain authority | Yes |
| SEO | Difficutly scoring | Yes |
| SEO | SERP monitoring | Yes |
| SEO | Site crawl | No |
| SEO/SEM | Keyword management | Yes |
| SEO/SEM | Keyword suggestion | Yes |
| SEM | PPC Metrics | Yes |
| SEM | Competitor Analysis | Yes |
| Social | Social monitoring | No |
| Integration | Google Search Console | Yes |
| Integration | Google Analytics | Yes |
| Integration | API | Yes |
| General | Reporting | Yes |
| General | Alerts | Yes |
| General | Browser plugin / App | No |
TOP SEM & SEO TOOLS
TOOL
Details
Info
RATING


Mangools Review
from $30


SEO keyword research: 4.9
SEO backLink analysis: 4.7
SEO SERP monitoring: 5.0
SEM keyword research: 4.9
SEM competitor monitoring: 4.0

READ REVIEW!

4.9


SEMRush Review
from $99.95


SEO keyword research: 4.8
SEO backLink analysis: 4.5
SEO SERP monitoring: 4.5
SEM keyword research: 4.8
SEM competitor monitoring: 4.0
SOCIAL monitoring: 4.1

READ REVIEW!

4.8


SpyFu Review
from $33


SEO keyword research: 4.7
SEO backLink analysis: 4.5
SEO SERP monitoring: 4.5
SEM keyword research: 4.7
SEM competitor monitoring: 4.0
SOCIAL monitoring: 4.3

READ REVIEW!

4.7