---
Details
Minimal Fee
RATING
SEO keyword research: 4.8
SEO backLink analysis: 4.5
SEO SERP monitoring: 4.5
SEM keyword research: 4.8
SEM competitor monitoring: 4.0
SOCIAL monitoring: 4.1

from $99.95

4.8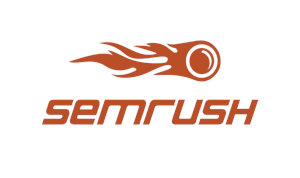 With just a quick glance at the SEMrush review will leave you noticing that this impressive seo tool can be had for under $100; it's $99.95 per month. But it offers a lot for your money. Features include ad-hoc keyword research, search ranking monitoring and crawling. If you're a small or medium sized business then this could be the right product for you to ensure you have almost everything you need.
SEMrush - The Price Is Right
Should this be your first experience of this type of software, especially on a tight budget; then you'll probably want to choose the $99.95 per month option. Of course if you have the funds and you're ready to commit then you can pay an annual fee of $999.40. That's a saving of $200 over the monthly charge; an excellent starting point.
Of particular note is the fact that this only provides subscription to SEMrush Pro plan. Although that includes an impressive 10,000 results on every report you create via either their analytical software or the SEMrush domain. You will also have 3,000 searches that you can complete on a daily basis: you may not have time to complete them all!
Alongside this you will be allowed to do 5 projects per day. A project consists of specific research connected with a specific domain. You can access 500 keywords for tracking purposes and even look at 10,000 pages for crawling! But it doesn't end there! The pro plan also gives you 5 PDF reports of your own devising; these can be scheduled to be produced every day; you can even monitor as many as 50 social media profiles!
The Guru Membership
Select the next option up although probably not necessary for many businesses because of the sheer amount of information provided by the pro plan.
This price is double the pro at $199.95 per month. Again you can make significant savings by paying in one lump sum; $1999.40 will give you a $400 saving!
Instead of 10,000 results you'll get 30,000 with 5,000 searches every day. But the real difference is having access to 50 projects instead of the initial 5 and 20 PDF reports instead of 5. Perhaps of more interest should be the wide range of historical data which can be accessed on this plan.
You'll also benefit from 1,500 racked words, as many as 300,000 crawling pages and an impressive 100 profiles in the various social apps.
The Business Membership
It is hard to imagine you needing any more than this but there is a top option. The business rate is $399 per month or $3999.40 per year. The saving is an amazing $800!
Of course you'll get a much higher volume of all the reports that you can access with the pro and the guru. But the biggest change I the unlimited amount of projects you can take care of on a daily basis. There are also some special PDF reports reserved for users of the business plan that you can access API while having multiple users.
But any SEMrush review intro would not be complete without reminding you about the custom solution; available for any business. This includes custom keywords and additional features including software training onside!
Is It Possible To Use SEMrush Without Experience?
Despite the software supplying you with an impressive range of information it is surprisingly simple to use. Even someone with no experience can quickly pick up the basics. Start by logging in and then view the domain analytics. This illustrates the latest keywords for your business and the amount of visitors you have coming to the pages; whether organic or paid for.
It is then possible to regard any projects already created. You can click on them and add a project while selecting which features you wish to track; such as position tracking backlinks or even brand monitoring. It is worth noting that this software appears to be unique in that it can actually listen to social media not just integrate with it! This means you have a huge amount of info at your finger tips.
You'll notice there us a navigation pane on the left side of the screen. This allows you to move directly to domain analytics, a project, your lead generations, custom reports or the analysis of your keywords. As my reviews are focusing on the ad-hoc keyword usage that is the area I have paid most attention to with this software. That's not to say the rest of this software is not impressive!
SEMrush Testing Focus
The focus of the review was to choose terms that would be searched on in real life. These have been compared and related search results also compared to assess the best SEO tool currently on offer.
SEMrush displays a bar at the top of its page. With a simple click you can select your own metric. For the purposes of the SEMrush review the focus was on keyword overview with some specific criteria selected form the drop down boxes.
A great option is a review of traffic volume specifically organic versus paid for. The analysis includes an assessment of the cost of paid advertising in different countries. You can even filter the results by country.
But, most impressively was the fact that it broke down the facts by device type; allowing you to verify that mobile devices really are beating desktops for access numbers.
A really nice feature that has arrived in the latest release of SEMrush is the ability to see which keywords your competitors have lost. You can then take these and use them to boost the profile of your site and products. The range of reports available allow you to moitor these keywords and assess the difference they are making to your marketing campaign.
In addition you can see the keywords relating to competitors and their ranking; even if you haven't used them yet!
It is also very impressive to see a SERP function that assesses your keywords in respect of the different SERP functions and how well you are performing compared to your competitors. You can even take a look at what actions are most likely to increase your SERP ranking both globally and locally.
It is even possible to set up campaigns which track different locations and then assess the results based on the device used or the location of the search!
This is all in addition to the ad-hoc keyword searching functions which appears further down the main page.
What is really great about this feature is the fact that you don't just search n the keyword. You can include close variations and match phrases. The results on these searches are a little more limited; they only show the CPC and search volume. That is until you choose the full report option and can see everything you need to.
You may want to note the most important factors that make up the difficulty scores. The higher your number the better and it is based on keyword search volume and the authority status of both your domain and your specific page.
Interestingly using 'digital marketing' gets a score of 75; but you can use the searches to find a variant which is easier to compete with. For example 'digital marketing agency' gets just 51 which will give you room to improve on.
But, it is a little disappointing to find that you can't get all the metric information directly on SEMrush. It will allow you to add an extension and overlay the metrics on a Google search page although this is not quite as efficient as it being in the actual platform.
This is where the SEMrush review starts to notice the small flaws in this program. You will quickly find that there is no option to manage lists or even organize your keywords. This means that you are unable to save the keywords you use. You're even going to need to export the information in a CSV file or record it manually. This is actually quite a big flaw; if you're spending hours researching the best keywords and phrases to use then you want to be able to list them, prioritize and return to them.
This SEMrush review shows that this is not possible; potentially wasting your efforts if you don't save the information. It is pleasing to see that an export feature is now part of the program. Instead of exporting the entire report by CSV or Excel it is now possible to export specific keywords.
While this is a step in the right direction it still leaves you needing to have a second application open to deal with your keyword management. It would be preferably to deal with this inside the same program.
Understanding The Project
You may be surprised by the level of reports that can be generated by SEMrush. One of the best ways of getting all the information you need is to create a project; you'll see the option for this in the left hand side of your screen.
One click and you'll be able to see all the data available connected to your site or domain. What you will find interesting is the health score which can be seen at a glance. This will give you an idea of how effective your site currently is.
There is also the ideas section which will give you inspiration regarding how to improve your page visibility and traffic. This is potentially the most useful feature in this software!
This feature is ready to receive all your keywords. You can then associate them with specific pages on your site; allowing you to direct traffic to the most relevant point. This should help to increase traffic and more importantly repeat visitors.
Once all your words are entered you can run the idea app and you'll see a number of suggestions. These will include ways to improve or change your strategy, what sort of content you should be creating and potential keywords and also some ideas on what backlinks may be beneficial.
In effect it can create the next step in your marketing campaign for you!
The fact that the software seamlessly merges with Google Analytics and the search console means that you can choose any page you want to link a keyword to.
Another, relatively new addition, to the software is keyword magic. All you need to do is create one keyword and this feature will create a vast list of ideas. It is said to be as many as 3 million but you don't want to sit there checking that fact!
The keywords are set in different categories to help you select what appeals to you the most and narrow down your results to the most relevant for your business. Unfortunately you can't customize the lists yourself. There is a link to the in-house analyzer to assess how effective the keyword may be.
You can even add filters to remove unwanted results based on your SERP settings. The result is keywords that can be used in headings and the main content. It even shows you the difficulty rating of each suggested word.
But that's not all! It is also possible to use filters to help you establish which pages have the highest click through ratings and the highest visitor numbers. You can select the pages you wish to focus on improving and the software will automatically make them a priority; directing you to them whenever you log in. It will even make the relevant suggestions to increase traffic and tell you how much difference this is likely to make.
You can even look at your pages and compare them to the competition. Perhaps the best part of this feature is not that it will take care of your marketing for you but that it is so easy to use even by a novice to the SEO scene.
Build Your Own SEO Reports With SEMrush
It is worth looking at the customizable reports section. It can be accessed whenever you create a report and will allow you to design the format and organize the information you want displayed. It can even link to your keyword results or any of the other metrics that SEMrush provides. This makes it a very versatile but easy to use feature which is sure to help you find the right direction for your marketing campaigns.
It is also possible to use a traffic analysis which will estimate where your competitors are directing their marketing efforts. You can then copy this approach or try your own. It will tell you their top ranking pages and the most used keywords in their domains. You can even see the information on a site by site basis.
There is also an audit tool option which examines the backlinks and crawling features of your sites. This feature is useful for locating issues that could cost you visitors or sales. You can let the report run itself or you can set the pages which need checking, what crawler should be used and even whether to include all URL's or not. This will give you a fantastic overview of your sites and your competitors.
You will also appreciate the backlinks filter which checks your connecting links and lets you know if any of them have gone bad. This will allow you to remove or change them according to your needs. In fact once you have set this up it will run automatically and advise you of any backlink issues. You can even look at the backlinks you've lost and those which are connected to broken pages.
But, it is worth noting that you must do a new query every time you want a report created. There is no option to save previous report settings and resort to them. This is disappointing but not a deal breaker.
The SEMrush Review – Is It The Ultimate SEO Tool?
There is no doubt that this software has a lot of great features and can give even a novice all the information they need to get started. SEMrush is continuing to develop although much of the Beta testing has now been completed.
The keyword management still needs improving to allow you to handle this within your software. But, other than this, there is little that you'll need which you can't find in the SEMrush review. It is possible to find a better SEO tool such as Mangools or perhaps Moz Pro. But this product is good value and has a huge amount to offer; it s certainly one to consider.
Here is a quick reminder of the advantages and disadvantages:
Advantages
The impressive keyword functions will ensure you have all the info you need to select the right words for your campaign. It also offers excellent backlink information and shows you the split between mobile users and desktop ones. The project function is also extremely well laid out and will prove to be useful. Especially when you combine it with keyword suggestions.
Disadvantages
The real issue remains that you can't organize and sort your keywords inside the software. This is a well put together package; as this SEMrush review shows you will not really be missing anything of importance. But you may find the rough edges a little more work than you would like.
| | | |
| --- | --- | --- |
| Aspect | Feature | Availability |
| SEO | Own page authority | Yes |
| SEO | Own domain authority | Yes |
| SEO | Difficutly scoring | Yes |
| SEO | SERP monitoring | Yes |
| SEO | Site crawl | Yes |
| SEO/SEM | Keyword management | No |
| SEO/SEM | Keyword suggestion | Yes |
| SEM | PPC Metrics | Yes |
| SEM | Competitor Analysis | Yes |
| Social | Social monitoring | Yes |
| Integration | Google Search Console | Yes |
| Integration | Google Analytics | Yes |
| Integration | API | Yes |
| General | Reporting | Yes |
| General | Alerts | Yes |
| General | Browser plugin / App | Yes |
TOP SEO & SEM TOOLS
TOOL
Details
Info
RATING


Mangools Review
from $30


SEO keyword research: 4.9
SEO backLink analysis: 4.7
SEO SERP monitoring: 5.0
SEM keyword research: 4.9
SEM competitor monitoring: 4.0

READ REVIEW!

4.9


SEMRush Review
from $99.95


SEO keyword research: 4.8
SEO backLink analysis: 4.5
SEO SERP monitoring: 4.5
SEM keyword research: 4.8
SEM competitor monitoring: 4.0
SOCIAL monitoring: 4.1

READ REVIEW!

4.8


SpyFu Review
from $33


SEO keyword research: 4.7
SEO backLink analysis: 4.5
SEO SERP monitoring: 4.5
SEM keyword research: 4.7
SEM competitor monitoring: 4.0
SOCIAL monitoring: 4.3

READ REVIEW!

4.7