---
Details
Minimal Fee
RATING
SEO keyword research: 4.7
SEO backLink analysis: 4.5
SEO SERP monitoring: 4.5
SEM keyword research: 4.7
SEM competitor monitoring: 4.0
SOCIAL monitoring: 4.3

from $33

4.7
It could be said that SpyFu has successfully combined a user friendly interface with a tool that really does offer you the best possible SEO tools.
This may sound like high praise but this SpyFu review will demonstrate that this product is every bit as good as it appears to be. It has the potential to be the best SEO tool on the market! Potential is the right word as Moz Pro is another fantastic offering that may have the edge on SpyFu; you'll have to judge that part yourself!
SpyFu - Getting Started
You'll need to subscribe to one of the SpyFu plans to access all the features it has to offer. There are several to choose from:
Go Basic
The most basic offering is just $33 per month; providing you pay for it annually. If not you'll need to pay $39 per month. The surprising fact here is that there is no limit to the searches you can perform. Whether you want to check keywords, domains, backlinks or even see what your competitors are doing; you can! You can even export all the data as a CSV or to Excel for further analysis.
This makes it a fantastic option for most businesses. However, it is worth noting that the basic plan only gives you 25 sales leads and 5,000 tracked keywords per week. This will be enough for most small businesses but as you grow you'll realize that you need more. Perhaps of more concern is the fact that you'll only get 10 reports on Pay Per Click activities and domains. This could be limiting even to a small business.
Professional
You can take it up a notch to the professional plan but this will cost you $74 per month; providing you pay in one lump. If you just opt for monthly it will cost you $99 per month. The good news is that this level ups your sales leads to 500 and gives you an impressive 15,000 tracked keywords per week! You can also create your own custom reports and allow you to use the API created by SpyFu.
The Team Plan
Take it up another notch and pay $199 per month for an annual contract or $299 per month when paying month by month and you'll enter a whole other world. As the name suggests this level is designed for firms looking after multiple clients. You'll need the functionality and range of reports that you get with team membership.
Sales leads move up to 2,000, while tracked words are a whopping 40,000! Of course you can have a team of up to 5 people logging in and you even get a money back guarantee to ensure you are satisfied with the product; although it would be hard not to be!
Using SpyFu Tool
The first thing you'll notice when you open the software is how well laid out it is. There are 7 tabs at the top of the page allowing you direct access to keywords, backlinks, tracking, SEO tools, PPC info, list builders and a range of reports. The software has a huge amount of potential to help your SEO marketing efforts but the main emphasis of this SpyFu review is on the ad-hoc keyword function ability.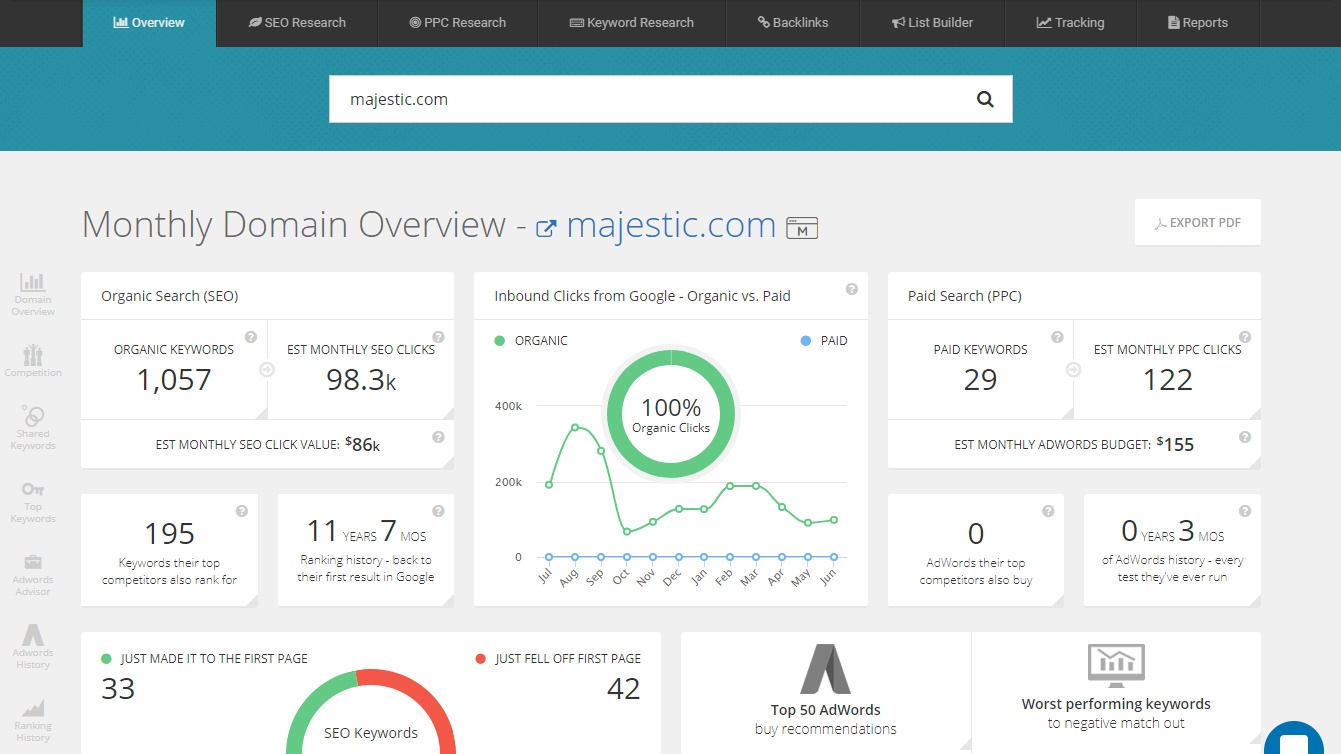 Keywords are the driving force behind identifying the best Search Engine results Pages (SERP) and in understanding how to move your pages up the ranking s to get the all important top spot; behind the paid ads. If you're testing the product it is best to use keywords that would really be used by customers.
Testing The Keywords
With 5 simple keywords it is possible to test SpyFu. The first thing you'll notice is that the results are structured very differently to most of the other SEO software tools.
Instead of giving you a spread of information regarding the performance of a specific keyword the first point is a numerical value for each keyword. This is based on its difficulty rating, visitor numbers and a variety of other factors. In effect you'll see the potential income a well placed keyword could bring to your business.
But that's not all it offers! You can still see a comprehensive breakdown of the keyword; all you need to do is click on it.
You'll then get a report which shows the keyword, related keywords, ranking and historical ranking, the backlinks, phrases and groups of keywords and, of course, the SERP position.
It is fair to say that this is the most in-depth analysis of a keyword offered by any of the SEO tools. You will even see the Cost Per Click rating and have an analysis of how this has changed day by day. It will also give you all the advertisers who have used a given keyword over the last year. In addition there is an array of information regarding any related keywords; including their difficulty and costings for each day.
When you look towards the lower part of the results page you'll see the SERP information. This is broken up into segments with the main emphasis being on the cost per month of specific words or phrases.
This may not be useful to everyone and you can get more SERP information from other SEO tools. You could say this is the biggest issue with this product!
SpyFu Review – Understanding The Reports
You'll be pleased to note that keywords and how you can manage them is an integral part of all the SpyFu tools. Even when you are looking at SEP or PPC you'll find an additional menu which gives you access to keywords specific to the category you're in.
Simply create a keyword group and you'll have all the information regarding monthly search value, difficulty rating, cost per click and the cost per month. The keyword you've searched on is displayed on the left of your screen along with keyword grouping suggestions. On the right you'll see the options to add keywords or you can export all the information to Excel. CSV and PDF files are also an option when exporting.
But the real icing on the cake is the SpyFu list builder and its ability to track words. You can even link these results with the CRM software built into SpyFu. In fact this is one of the best features of this impressive product. Take a look at the list builder and you can create a list yourself or accept the suggested options. These include the ability to select domains that spend above a certain threshold or the keyword that has the highest or lowest CPC. You can even find the most expensive words; which you may wish to avoid!
Further filters allow you to localize the search, or restrict it to your industry. You can even filter it to specify a specific buying platform or method of purchasing. The options are truly staggering.
In addition you'll see the dedicated business leads. You can use this to search on keywords in the same way as the keywords tab. Again, it is possible to filter these results in the same way as the list builder; allowing you to really target your audience or competition. The business leads tab will give you URL's including their monthly budget for ads and the information you need to contact them. Effectively it creates new leads for you! This is unique to SpyFu and they take it a step further by allowing you to export the results to deal with later.
It is even possible that this will develop into a link to a sales tool app!
SEO Campaigns
There is an impressive depth to the information you'll get from this software. This can then be incorporated into the SEO campaign feature. In effect the keywords you research and the results they generate are retained in the management tool; allowing you to rack them and ensure they are implemented in your future campaigns. It is even possible to track multiple words or groups and compare them against their ranking, traffic and cost. This will give you the opportunity to analyze them before you invest your efforts in a particular word or phrase.
Alongside this there is a feature known as the tacking lab. This records the keywords you want to do something with and then gives you a report every week on how these words are performing. You can even customize the report you get to get the most relevant information. This type of innovation is why the SpyFu review is singing the praises of this software. There are very few other systems that can offer these types of capabilities. You can even get a visual report on a specific keyword. This can be very helpful to ensure you understand what the report really says. It can also be used to see how keywords interact with each other and the analysis of their costs as well as suggesting keywords which could do well.
This should help any business get the upper hand against their competitors.
SpyFu Review – The Whole Package
There is no doubt that SpyFu offers more in-depth analysis than any other product and it is delivered in an impressively easy to use package. This, combined with a good price makes it an excellent choice for everyone; even those who have not used SEO software before.
A few moments spent inputting the most important keywords will give you a wealth of information that can really help you to direct your future marketing efforts.
The emphasis on the monetary impact of any keyword is a great tool for most SEO users. Of course, if you are looking for more in-depth analysis of crawling capabilities then you may want to take a look at Moz Pro. But for most people this is the perfect SEO tool!
That's a lot of praise in one SpyFu review.
Recapping The Advantages & Disadvantages
The Advantages
There is no other product that can touch SpyFu's analysis of keywords and help you to generate new ones. The price of this software is good considering what you are getting and it provides custom and visual reports. You can also see the cost of a keyword, get analysis on PPC and CPC and study many other metrics to do your advertising campaign. It also offers a good range of backlink reports and the ability to track them with no limit on result numbers!
The Disadvantages
The lack of crawling is disappointing and the sheer amount of information may be confusing for those new to SEO tools. To sum up SpyFu ticks nearly all the boxes. It is well designed and fantastic for anyone looking towards sales and marketing. This SpyFu review will quite happily say it is the one to use for any SMB looking to boost sales and understand their online marketing efforts.
| | | |
| --- | --- | --- |
| Aspect | Feature | Availability |
| SEO | Own page authority | No |
| SEO | Own domain authority | Yes |
| SEO | Difficutly scoring | Yes |
| SEO | SERP monitoring | Yes |
| SEO | Site crawl | No |
| SEO/SEM | Keyword management | Yes |
| SEO/SEM | Keyword suggestion | Yes |
| SEM | PPC Metrics | Yes |
| SEM | Competitor Analysis | Yes |
| Integration | Google Search Console | No |
| Integration | Google Analytics | No |
| Integration | API | Yes |
| General | Reporting | Yes |
| General | Alerts | Yes |
| General | Browser plugin / App | Yes |
TOP SEM & SEO TOOLS
TOOL
Details
Info
RATING


Mangools Review
from $30


SEO keyword research: 4.9
SEO backLink analysis: 4.7
SEO SERP monitoring: 5.0
SEM keyword research: 4.9
SEM competitor monitoring: 4.0

READ REVIEW!

4.9


SEMRush Review
from $99.95


SEO keyword research: 4.8
SEO backLink analysis: 4.5
SEO SERP monitoring: 4.5
SEM keyword research: 4.8
SEM competitor monitoring: 4.0
SOCIAL monitoring: 4.1

READ REVIEW!

4.8


SpyFu Review
from $33


SEO keyword research: 4.7
SEO backLink analysis: 4.5
SEO SERP monitoring: 4.5
SEM keyword research: 4.7
SEM competitor monitoring: 4.0
SOCIAL monitoring: 4.3

READ REVIEW!

4.7